As a leading exhibition in the flooring industry, DOMOTEX asia is driven by forward-looking and trend-driven products. Since 2013, it has launched a promotion platform for new flooring products. InnovAction is a new trend of flooring, encouraging new brands in the flooring industry to introduce or independently develop new products at the exhibition site, and get in touch with the audience to build a strong new product display in the flooring industry.
This year marked DOMOTEX asia's 20th anniversary. What began as a small exhibition has risen to the fastest growing flooring trade exhibition worldwide. As part of the DOMOTEX trade show portfolio, DOMOTEX asia boosts promotion for the Asian-Pacific region by attracting industry brand names such as; Armstrong, Gerflor, KCC, Faus, Giant, Weitzer, Farrahi, Shanhua, Haima, Klumpp, Winters-teiger, and Hawk.
More than 55,000 industry professionals from the emerging Asian markets and 100+ other countries attend each year and have utilized the event as their ideal platform to sell their flooring products, form partnerships, locate suppliers and manufactures, and network with industry leaders.
The 21st edition is expanding this year to 175,000 sqm and 15 halls due to increasing demand from 1,418 exhibitors from 35 countries.
Welcoming over 60,000 visitors from over 104 countries across the world, do not miss the opportunity to visit DOMOTEX asia 2019, March 26th to 28th, 2019 in Shanghai and increase your network at Asia's meeting point for the flooring industry.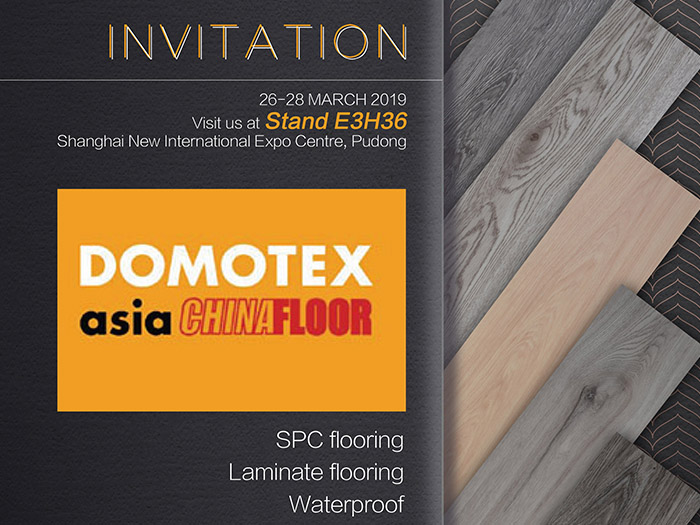 DECNO will attend Domotex Asia in Shanghai, Stand E3H36, 26-28th Mar. 2019. We accordingly invite you to visit us on DECNO Booth.
Exhibition products of Domotex Asia in Shanghai 2019.This time, except the normal flooring products, DECNO also will bring the Innovative products,like the waterproof flooring ,SPC flooring/Rigid core flooring with improved technology,like the E.I.R surface, Extra long SPC flooring ,Extra wide SPC flooring ,SPC flooring with IXPE, SPC flooring with cork as well the trend leading decors suited the Market.
Looking forward to seeing you then!
DECNO Group Ltd