DECNO Value -- 6 Systems
Under the circumstances of fierce competition in the flooring industry, the importance of finding a trustworthy and reliable flooring manufacturer is self-evident. Although different people have different needs, we share the gold standards of the best flooring manufacturer. For DECNO, we can supply you with the next-level flooring, and provide you with the best-class services you need to boost your business and stand out from other competitors. DECNO 6 systems are the epitome of our reliability.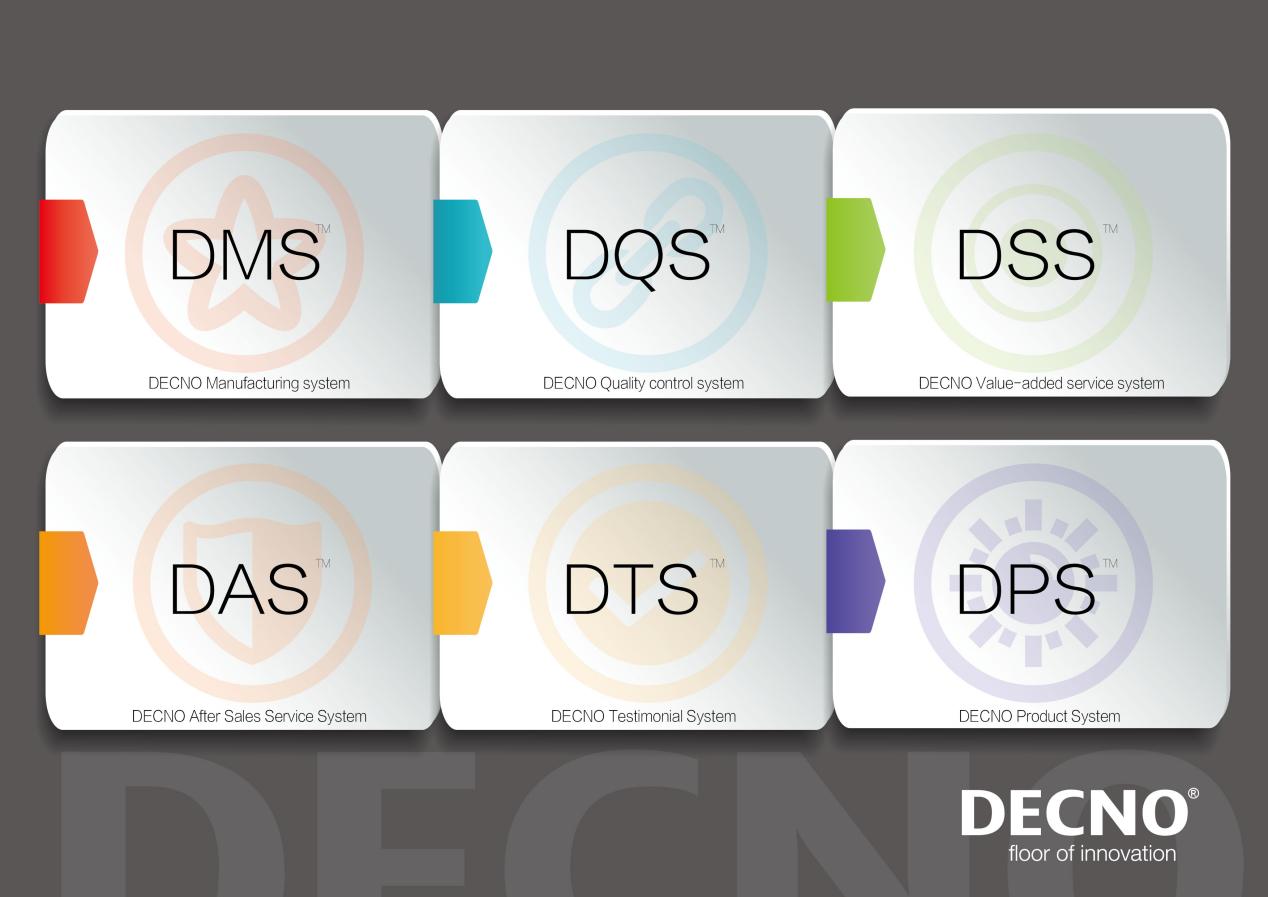 1.DMS—DECNO Manufacturing System
As an organized and integrated system, DECNO Manufacturing System is the perfect combination of professional engineers and workers, advanced production equipment and manufacturing techniques, mature production processes and management, and innovative technology. We believe only we build a solid and best production foundation can we manufacture the best flooring for worldwide top flooring brands, and bring health and happiness to each and every family.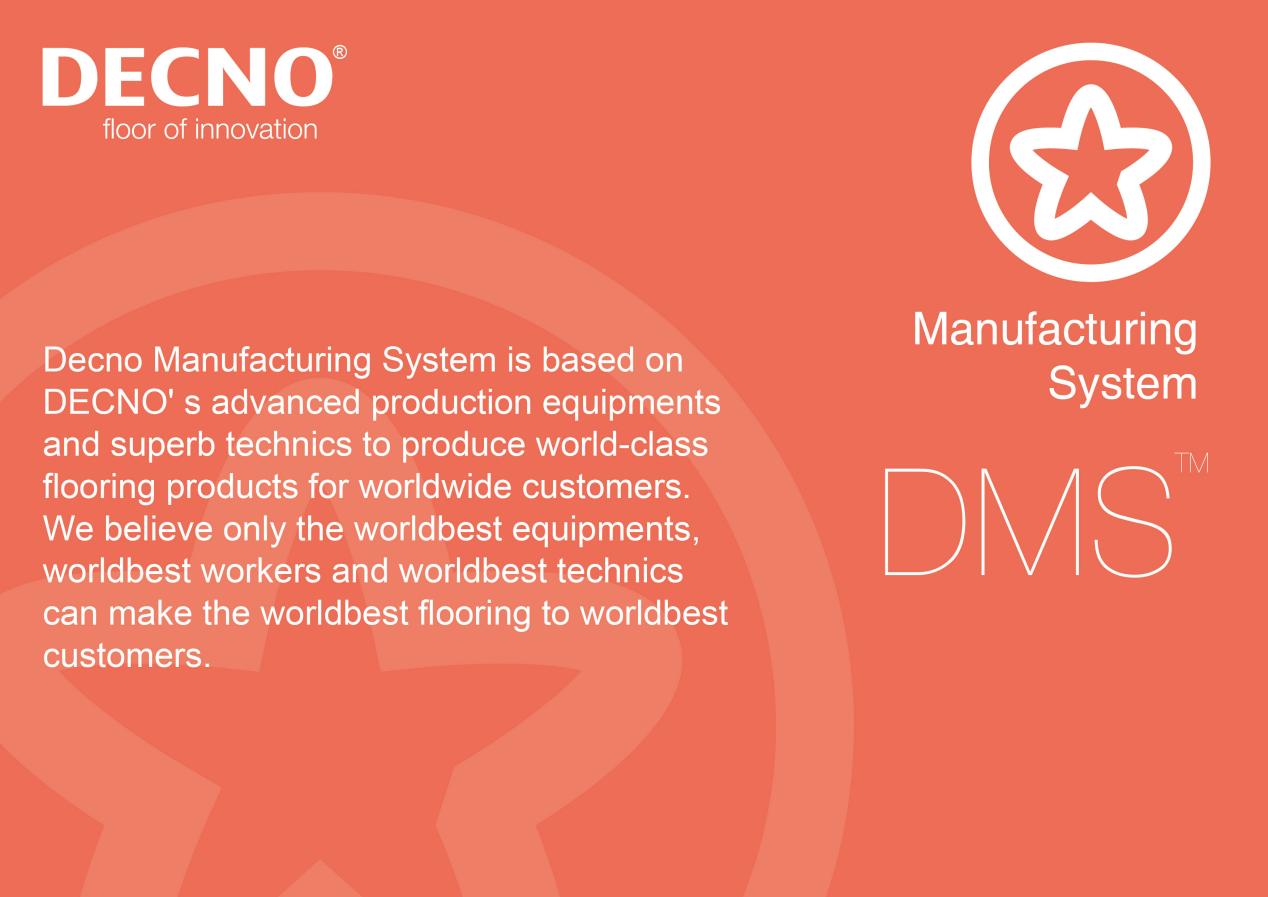 2.DQS—DECNO Quality Control System
DECNO Quality Control System is a collection of inspections and testing processes focused on providing the best quality flooring to our customers. We have established well-defined quality control policies which are strictly in conformity with world-class standards, or even better. And thanks to this, we can constantly maintain and improve the quality of our flooring. DECNO quality control and management covers the whole process from before, during, to after production, and every key procedure. Providing the best flooring with exceptional performance on a continuous basis and meeting customers' demands are what we strive for.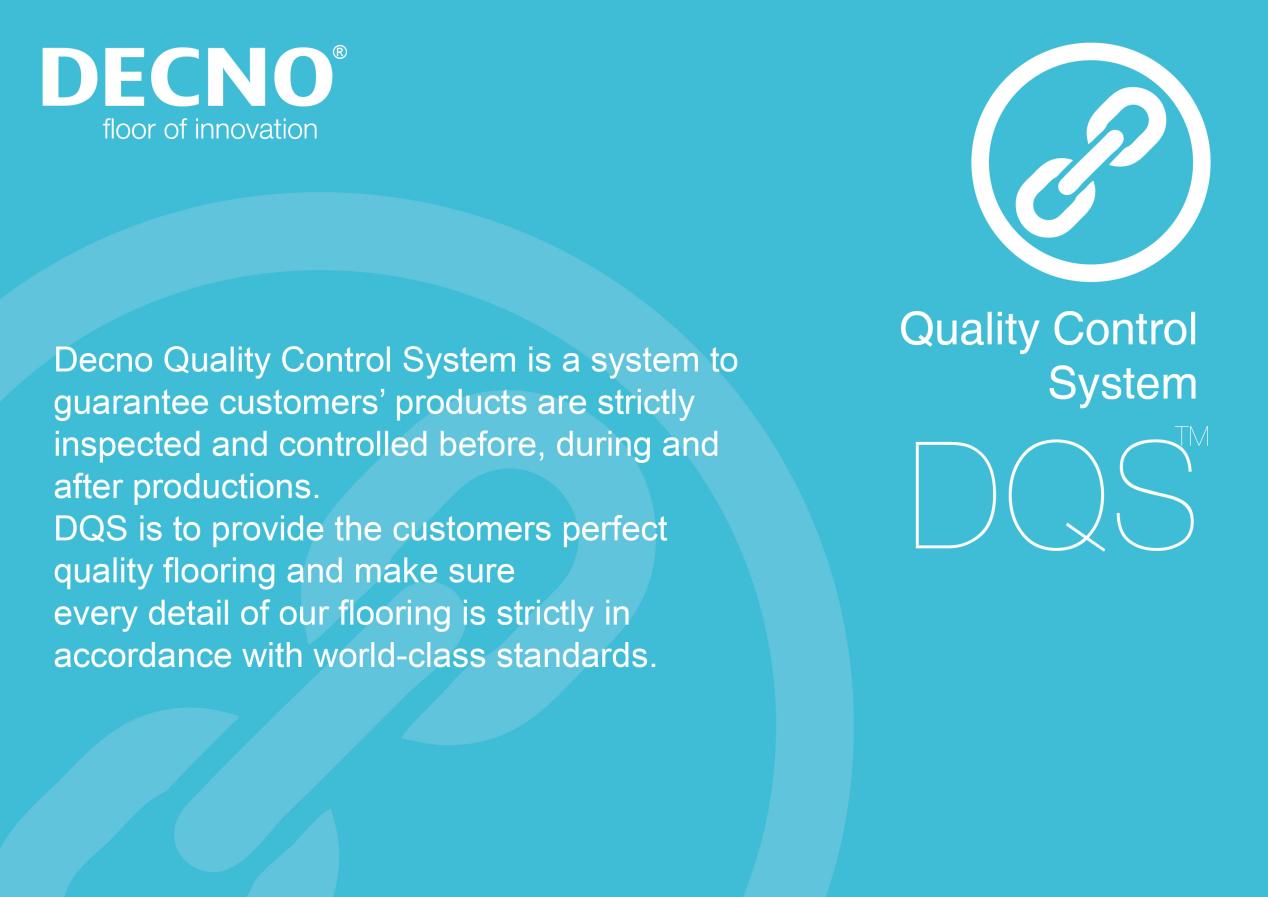 3.DSS—DECNO Value-added Service System
DECNO Value-added Service System is composed of holistic services to satisfy customers' demands and boost your business. Besides the best flooring, we aim to provide our customers with the best service you can never ever have from others, including professional regional directors with profound experience and knowledge, effective Russian and Spanish communication,brand design, color matching and sample mock up, shipping and document service, industrial news and trends, online and offline marketing supports. Choose DECNO, choose a worry-free business relationship.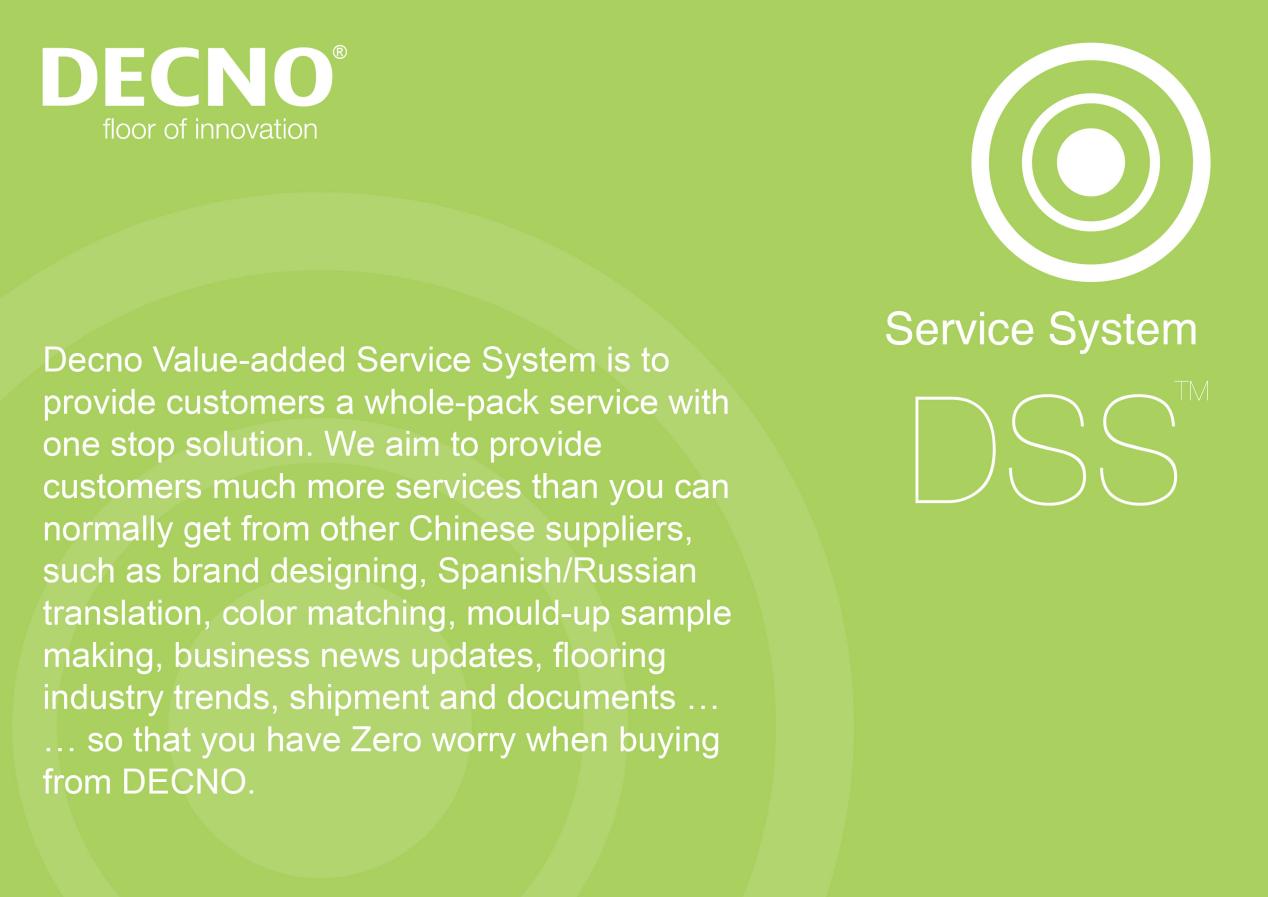 4.DAS—DECNO After-sale Service System
DECNO After-sale Service System consists of various processes covered from quality complaint handling system, quality warranty policies, installation and maintenance instruction service so that we can deliver supports with fast response to any of your feedback. Backed with our guarantee of the best quality from every production procedure, we can promise you a long-term relationship with our customers and ensure continued satisfaction with our excellent products and services.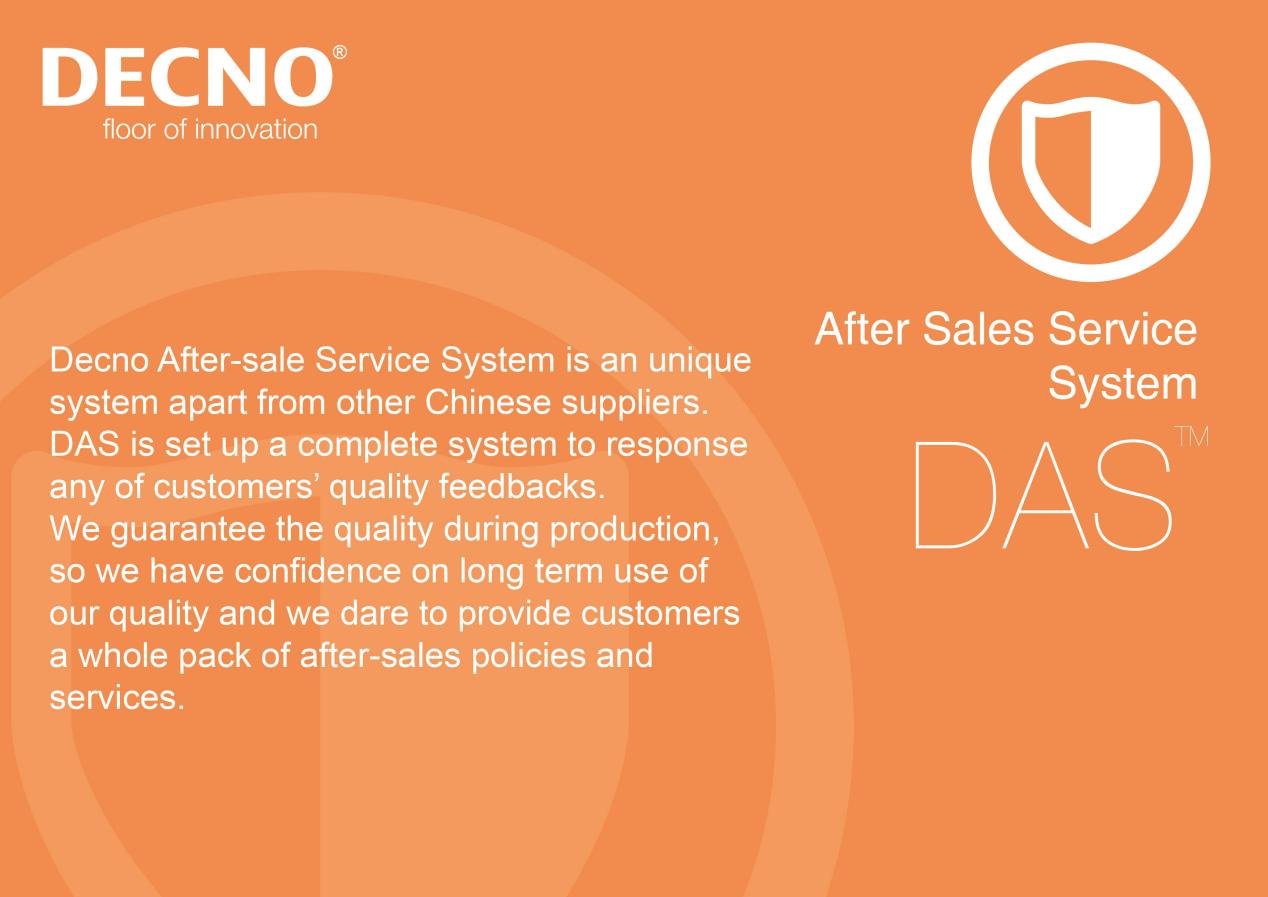 5.DTS—DECNO Testimonial System
DECNO Testimonial System is the representation of our reliability from our customers' perspective. It is one of the most powerful, important values and recognition we have received from you. We make constant interaction with our customers, no matter from online daily chat, or face-to-face communication such as participating in international flooring exhibitions and calling on our customers. We appreciate your continuous trust and support, and we will, as always, provide you with the best flooring and the best service.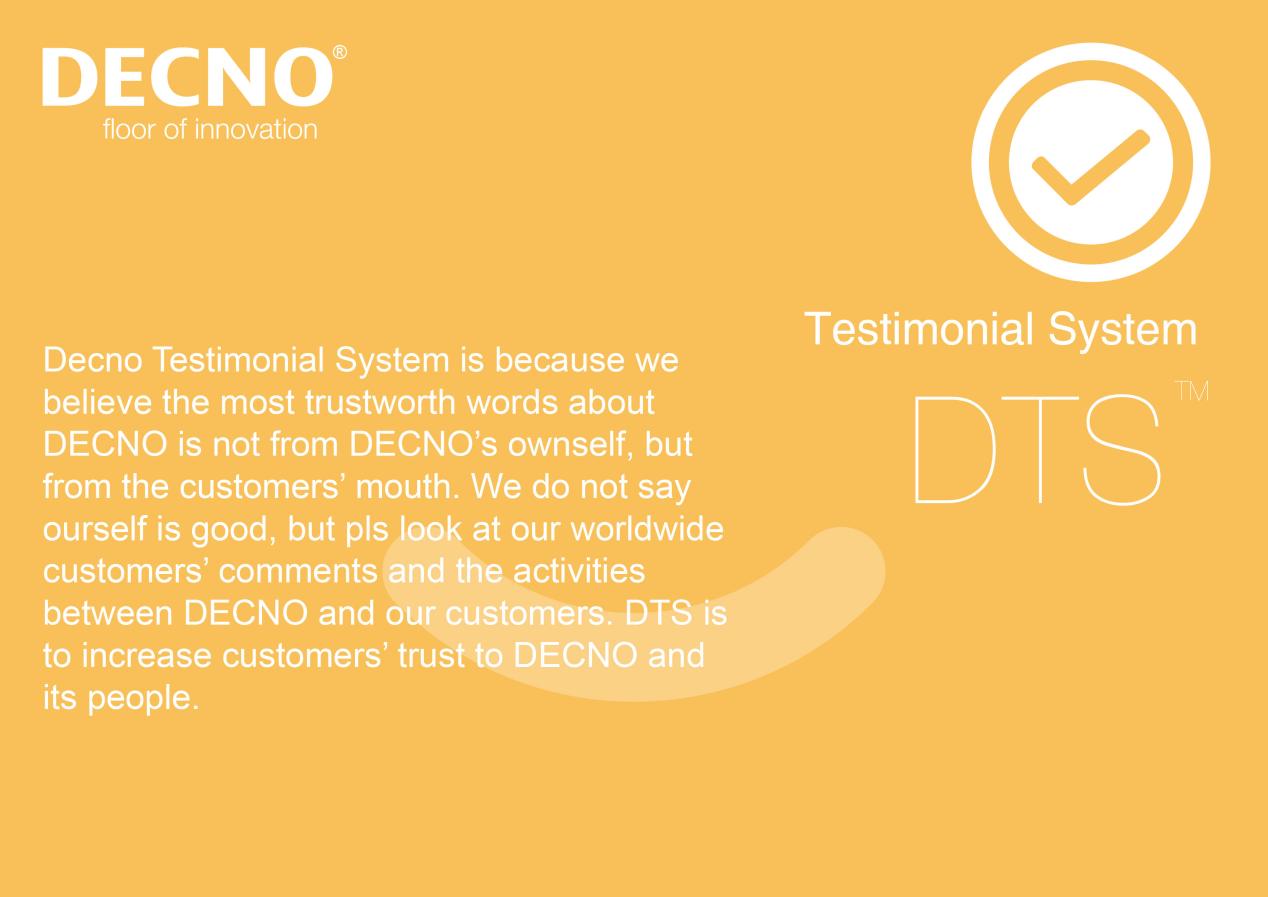 6.DPS—DECNO Product System
DECNO Product System is a complete product portfolio including different types of flooring, and different specifications rooted in our strong development and innovation capability. Excellent products infused with our advanced technique are the core competitiveness of DECNO. From standard SPC and laminate flooring, flooring accessories to innovative SPC Wall panel, Hardwood SPC Flooring, Multiple UV SPC Flooring and Hygienic SPC Flooring, we continue to push the envelope and pursue to offer customers a one-stop solution. We believe that a wonderful product will speak itself. We will continue to expand our product categories via innovation to lead the market and better resonate with customers.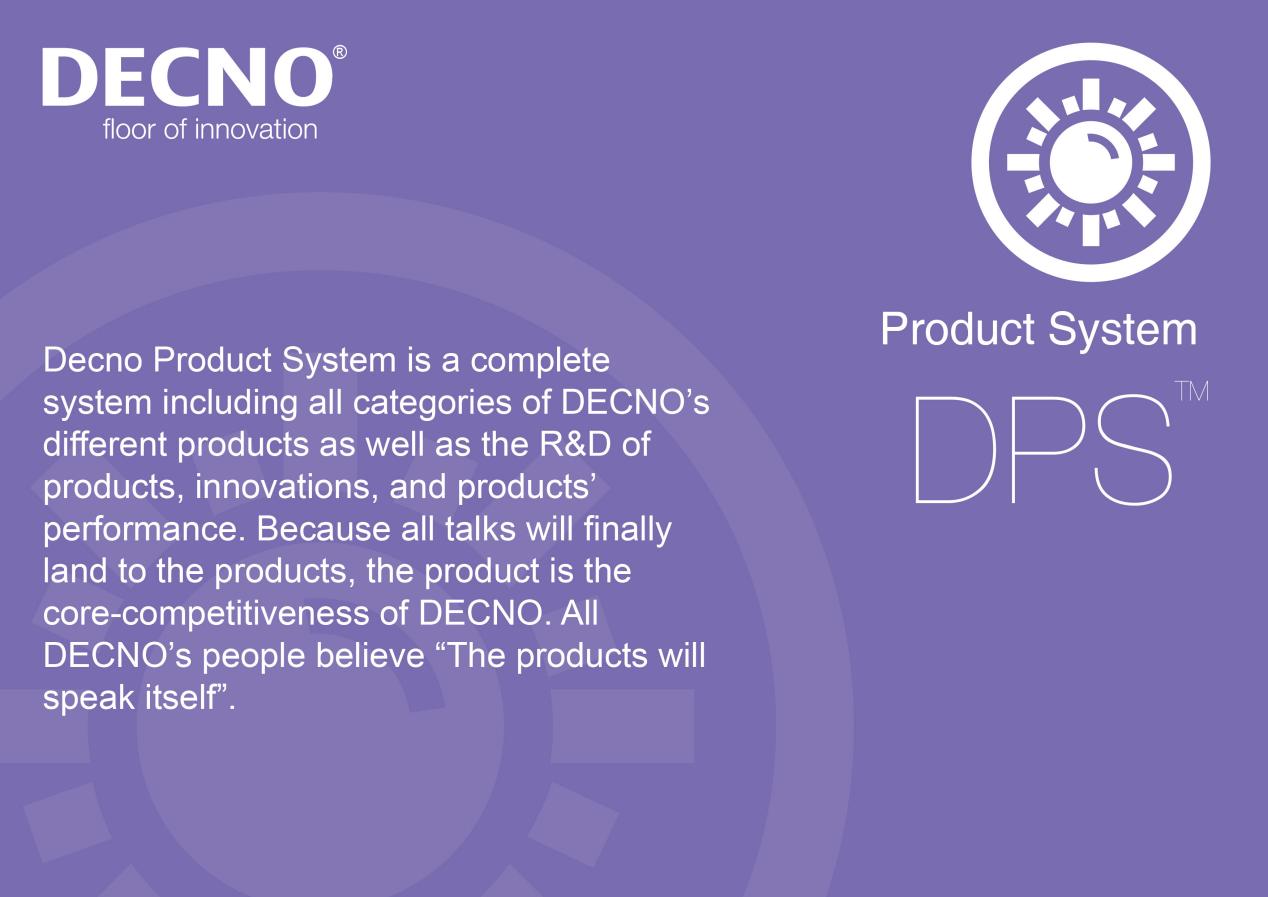 DECNO 6 Systems are the embodiment of what we actually do for all our customers. And with our strong innovation and robust production capabilities, we will always be the most reliable flooring manufacturer for worldwide customers.