SPC Wall Panels - innovative multifunctional wall solutions. SPC wall panels are waterproof and sturdy, and have stable performance in wet environments. SPC wall panel is the most cost-effective alternative to tile. Innovative SPC wall panels with tongue and groove interlock system install 5 times faster than tiles and save 70% of the cost. SPC wall panels have great competitive advantages and have been widely used in residences, commercial shops, hotels and offices.
In response to the strong market demand, DECNO has continuously innovated the production process and launched three popular series: SPC Wall Panel XL, Engraved SPC Wall Panel, SPC Shower Wall Panel.
SPC Wall Panel XL
Large size, clear texture, more luxurious and spacious visual enjoyment. The space effect is extended, the space vision is widened, and the aesthetic fatigue caused by traditional specifications is broken. SPC wall panels are light, not fragile, and elastic, and are several times higher than tiles of the same size in terms of transportation safety and cost.
Popular Format: 2200 x 450mm (86.1'' x 17.7''), 2600 x 600mm (102.3'' x 23.6''), 2800 x 600mm (110.2'' x 23.6'')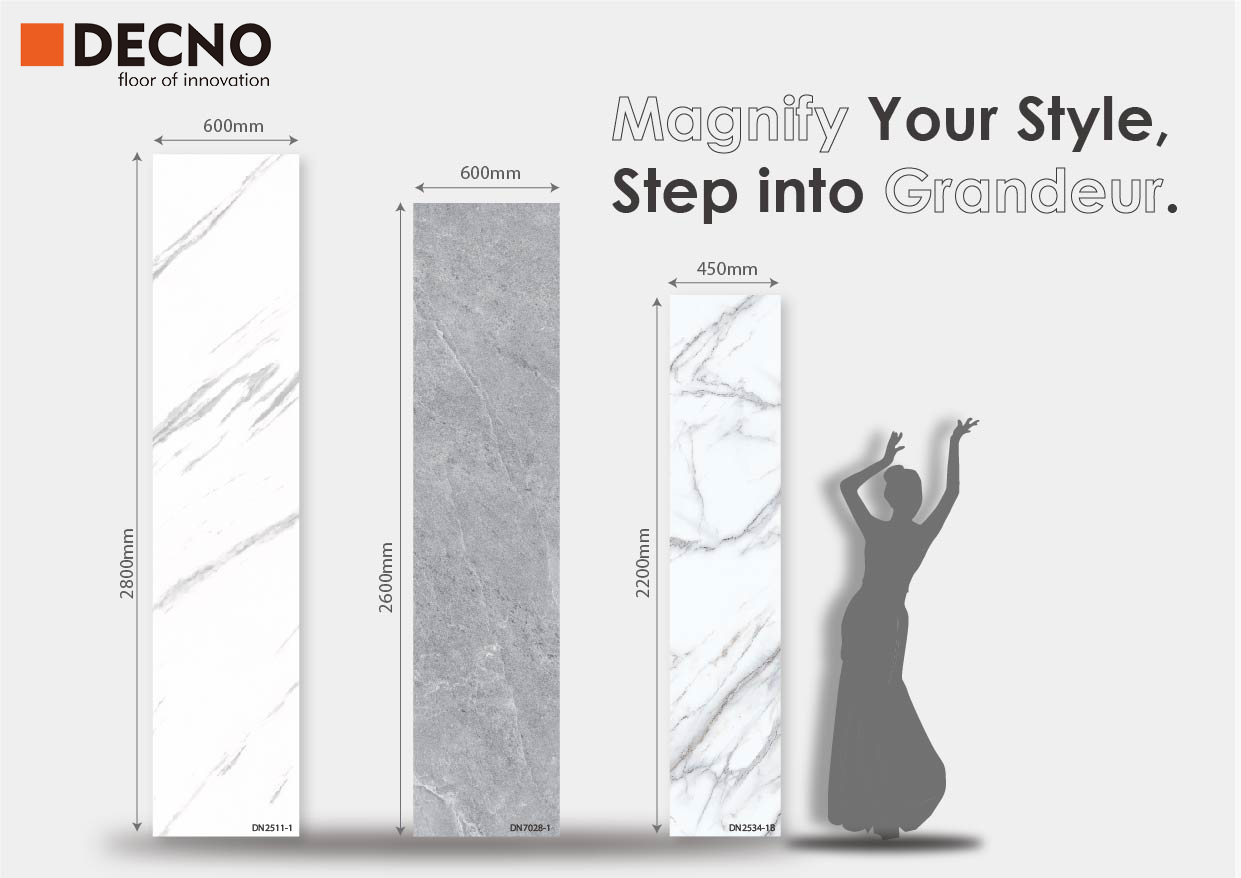 SPC Wall Panel XL: 1200 x 2400mm (94.5'' x 47.2'')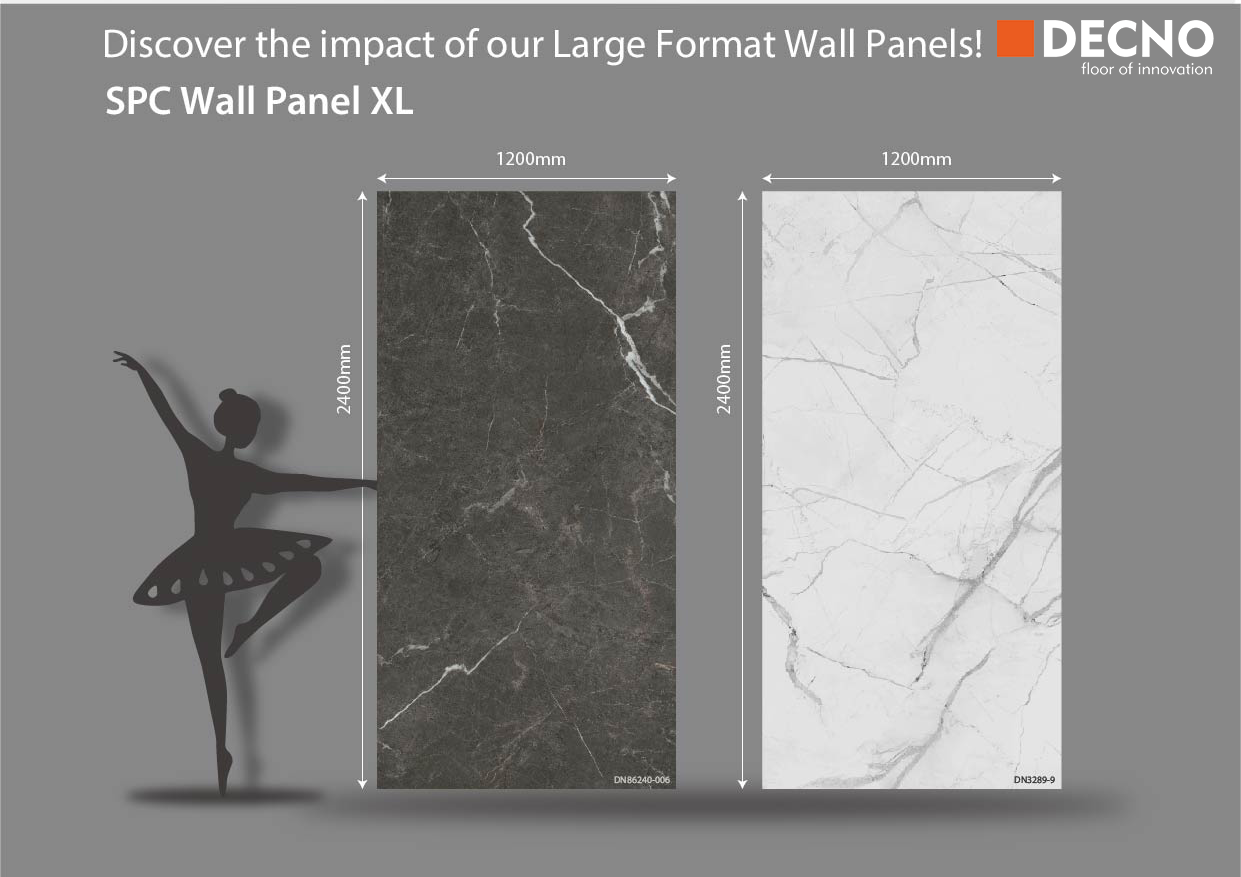 Engraved SPC Wall Panel
A grout-free wall panel solution. The first innovation of its kind, providing realistic, textured grout lines integrated into the walls. Achieve gorgeous grout line patterns without the mold and hassle of maintaining real grout. For example, square, subway tile, chevron, vertical grid, hexagon, etc. At DECNO, we don't believe in a one-size fits all approach. We will engrave your favorite pattern based on your needs.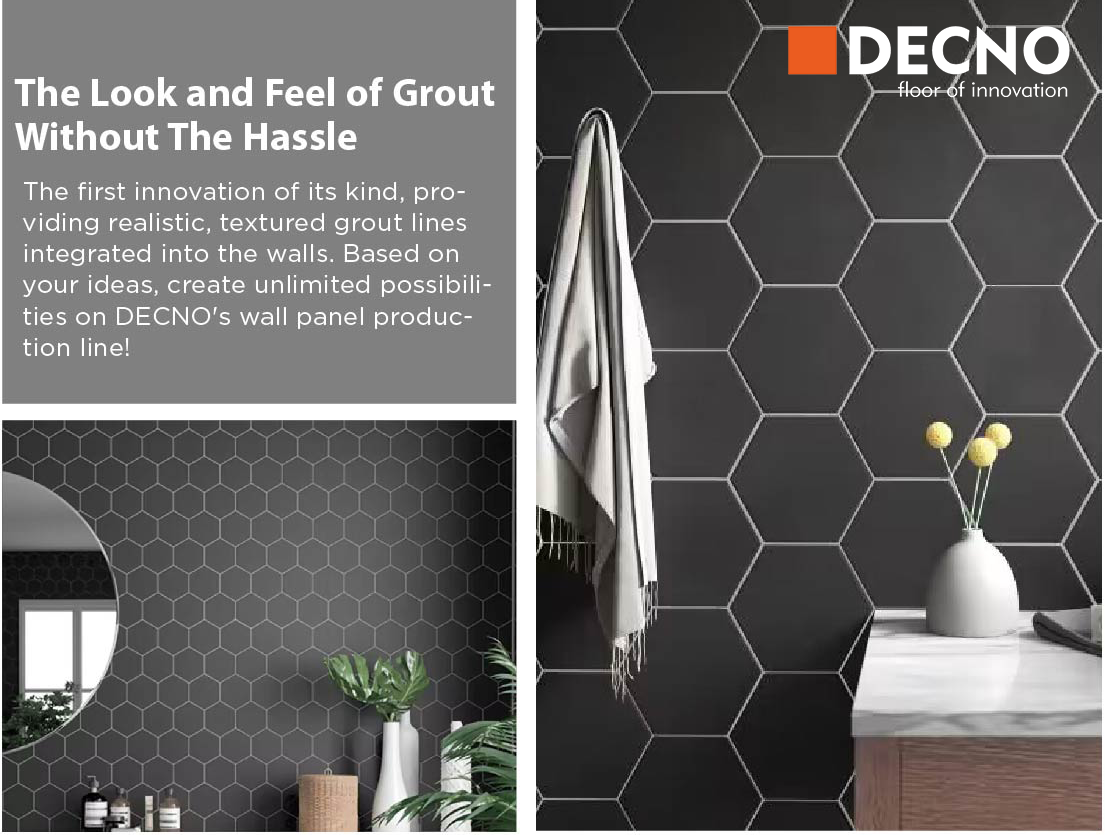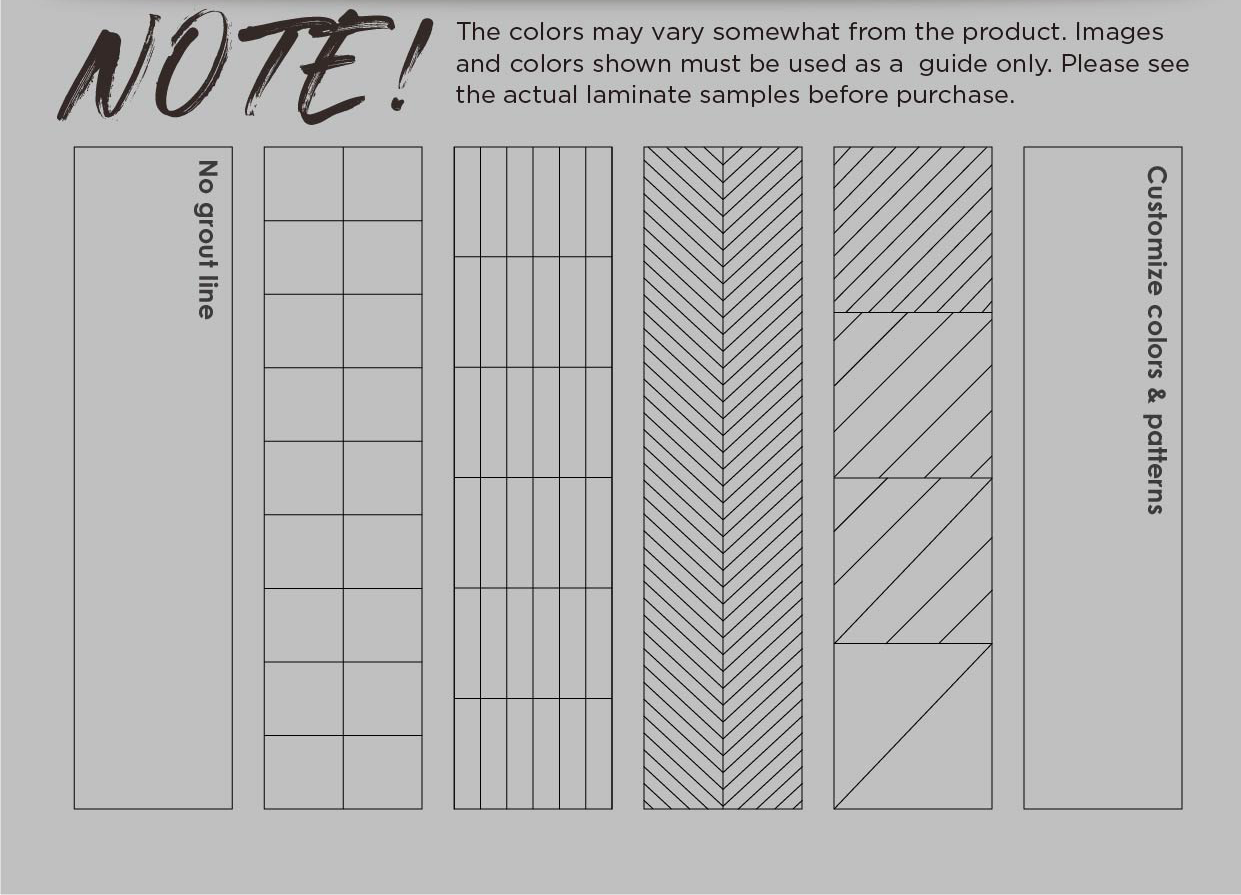 SPC Shower Wall Panel kit
A cost-effective innovative shower wall solution. Say goodbye to mortar, messy grout, and time-consuming tiling for your shower wall. 5 times faster than tile installation and 70% cost savings! Install in one day with the SPC wall panel kit!
Everything is shipped in one box:
These handy kits include all the materials you need to fit your shower panels including the SPC wall panels, internal corner trims, end trims, and double-sided tapes. Create the greatest convenience for transportation and sales!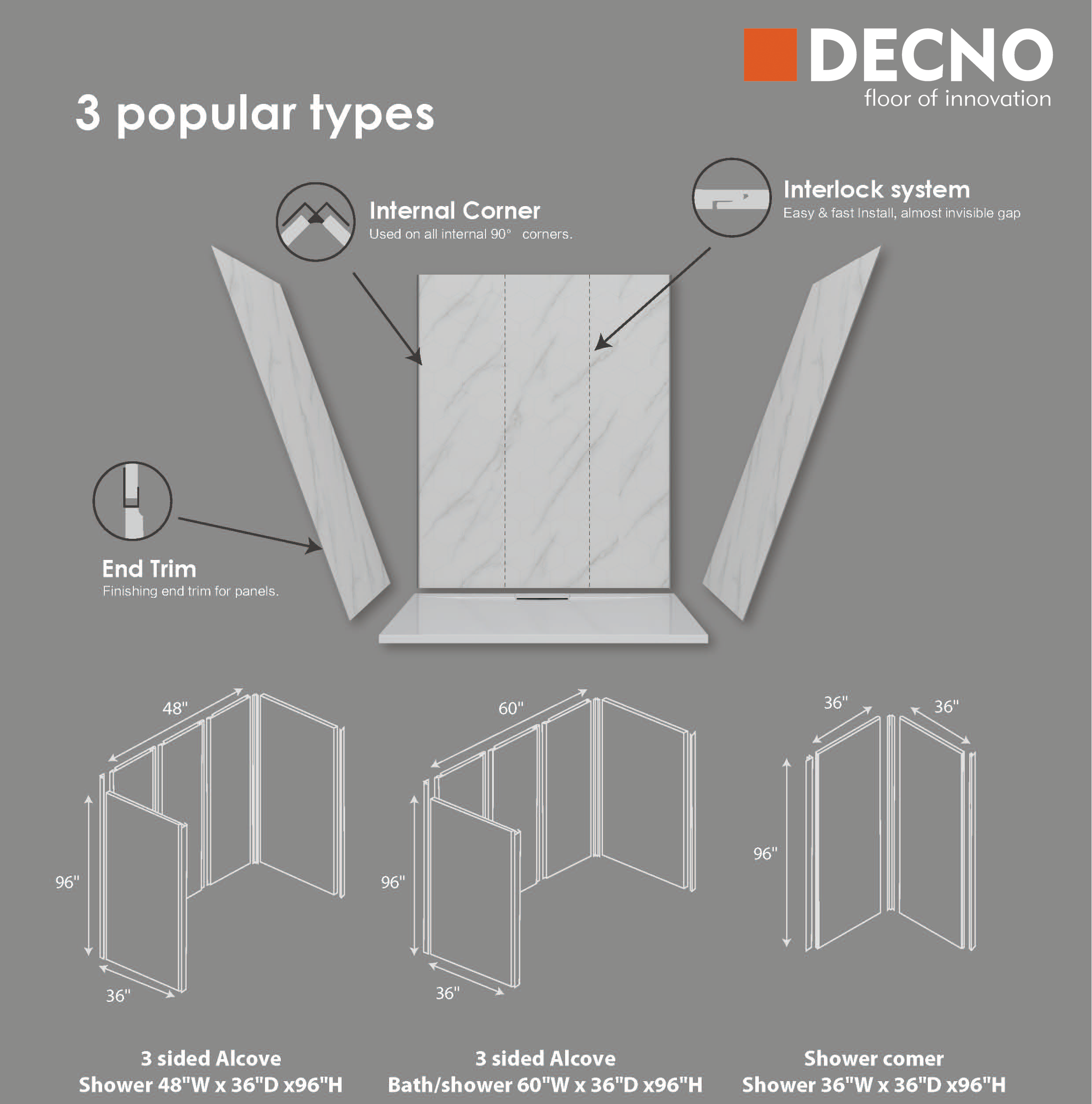 SPC Wall Panel: New Opportunity, Huge Market
SPC wall panels have excellent performance in both residential and commercial. It is waterproof, scratch-resistant, formaldehyde-free, maintenance-free and many other advantages, making it a popular choice in the field of home improvement. In the commercial, the installation of SPC wall panels is essy and quick, and the new upgrade of the store wall can be completed within one day without stopping business activities. Its appearance has brought great convenience and comfort to merchants and consumers.
Visit DECNO, Discover Endless Possibilities of SPC Wall Panels
As the new trend in wall renovation and decoration, SPC wall panels have become a hit product in building material stores and supermarkets in Europe and America. DECNO, as a leading manufacturer of SPC wall panels, boasts unique and innovative technologies, making it the preferred choice for major wall covering brands. Choose DECNO as your trusted partner for superior SPC wall panels and elevate your business to new heights.