With the continuous expansion of the business and scale of DECNO Group, we have decided to build a new super SPC flooring factory in Malaysia with a total investment of $30 million in early 2019. The new factory covers an area of more than 200 acres (810,000 m2). After completion, there will be SPC flooring with an annual production capacity of more than 6 million square meters.
The new factory is located in Malacca City in Malaysia. This region is easily accessible and has a well-developed infrastructure. At the same time, it is adjacent to Malaysia's main logistics ports - Port of Klang and Port of Johor. These will facilitate business operations in DECNO's main export markets and the development of new markets. More than 80% of our products will be more conveniently exported to Europe, Americas, ASEAN, Australia, Middle East and other regions.
Although the construction project was forced to suspend for a year due to the impact of the COVID-19, the factory construction was restarted in October 2020.
The latest good news is that the DECNO headquarters has dispatched 5 senior managers and 30 skilled workers. In addition, advanced production equipment has also arrived in mid-April this year, and has now been installed and entered the commissioning stage. The new factory is expected to complete all construction projects and put into production in June 2022, which will be another great achievement of DECNO's 25-year efforts in the field of flooring manufacturing.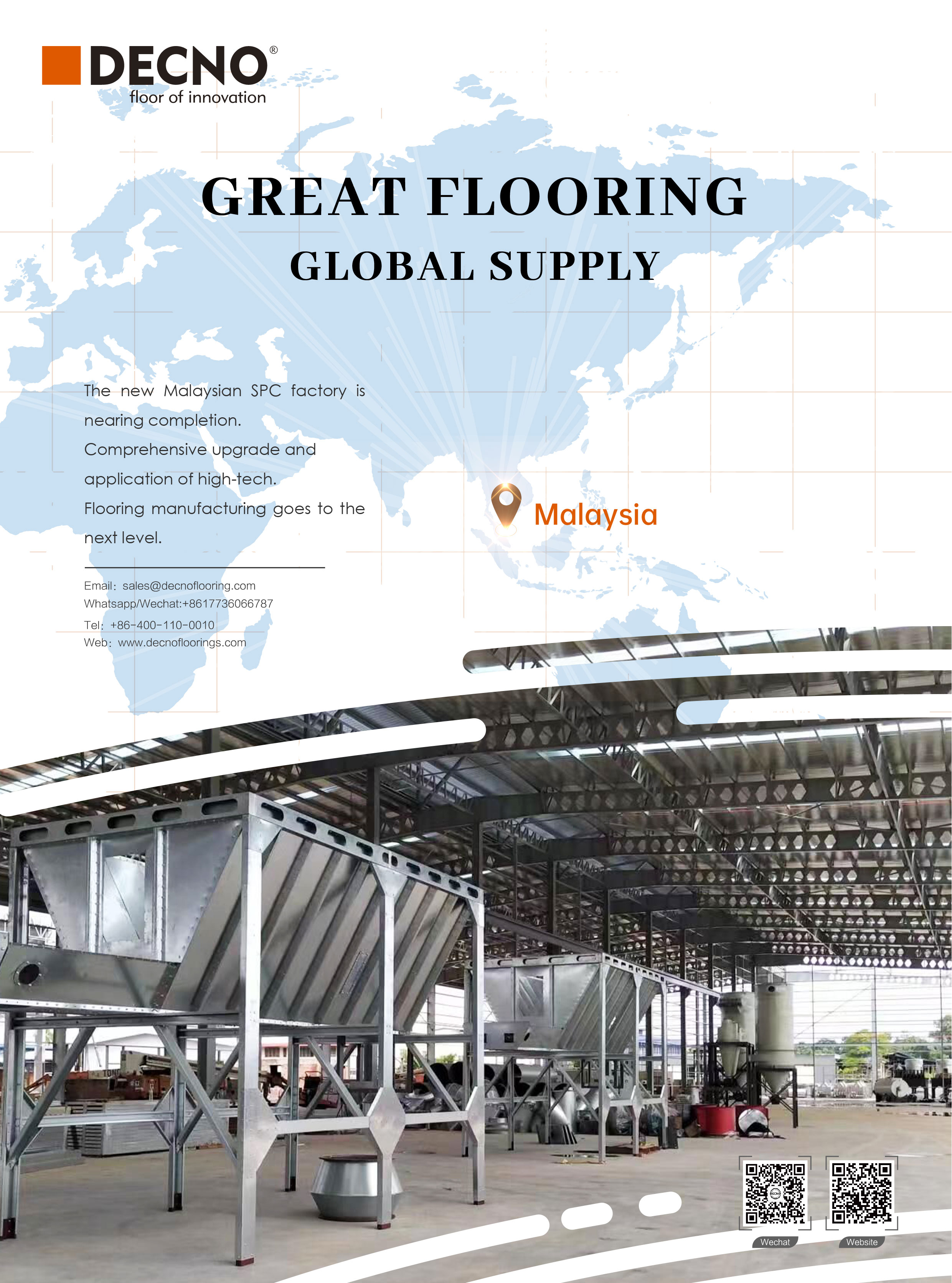 The completion of DECNO Malaysia SPC Flooring Factory will be a multi-win business:
·Scientific and strict quality control
The company has formulated strict and scientific production and quality standards for floor manufacturing. Only high-quality calcium carbonate powder and other raw materials are purchased locally, so the flooring has obtained a good grade from the beginning of production.
·Industrial and product upgrade
Introduce the most advanced production equipment and production and processing lines, improve product quality, innovate floor types, and meet the changing needs of the market and customers.
·Efficient and stable supply
Combined with local advantageous resources, high-quality mass production, shorten the production and delivery time, and ensure sufficient and stable SPC flooring supply for customers.
·New business partners
It is the new positioning of SPC floor manufacturing strategy, and get to know new floor distributors and brand parties around the world. Provide more product choices and quality service.
·Firm social responsibility
The new factory will provide hundreds of jobs for the local workers, help the development of local public welfare undertakings, and receive the attention and support of the local people and government.
DECNO sincerely thanks our dearest partners and friends for their support.
New Malaysia Factory, Better SPC Flooring Supply,DECNO will be the irreplaceable guardian and promoter of your successful business.